Welcome to Megasporebiotic Australia
Among non-communicable diseases, intestinal permeability (leaky Gut) also called (metabolic endotoxemia) is the number 1 leading cause of morbidity and mortality worldwide. Metabolic endotoxemia is a condition that stems from dysbiosis and a breakdown of intestinal barrier function.
Intestinal permeability is present in most chronic diseases and is believed to be the major driver of many conditions.
Click here to view all Microbiome Labs products.
MegaSporeBiotic is spore based broad spectrum probiotic clinically shown to maintain optimal gut health and reduce intestinal permeability by 60%, when compared to the placebo control group, in just 30 days without any additional interventions.
While most probiotic strains that can't survive transport to gut, Megaspore goes straight to inside the large intestine and recondition the gut instead of other who only claim to do the same and don't survive.
Do you have leaky gut Syndrome?  Click here to take the home leaky gut test now.
What is MegaSporeBiotiC™?
Mega SporeBiotic by Microbiome Labs – This unique probiotic blend aims to provide based broad spectrum probiotic spore form of pharmaceutical grade probiotic supplement that contains Bacillus Indicus HU36™, a broad spectrum probiotic clinically patented probiotic strain that produces antioxidants in the gut which can significantly improve gut health.
kiran Krishnan(Microbiome labs): As many of you know health starts with the gut, probiotics are beneficial bacteria but they have to be live organisms that are commensal to the gut, they live within the digestive tract. The problem is that most probiotics today never make it through the digestive tract alive and are thereby not functional probiotics.  The other aspect of a true probiotic is its ability to colonize the gut, reside within the natural flora and conduct metabolic functions that are beneficial to the gut and the human host.
A third aspect of a probiotic is that it has to be able to fit within the natural microbiome and influence the microbiome to allow for the natural growth of your own microbiome species that you were born with.

The Benefits of Advanced Probiotics
Heals leaky gut – Healthy gut microbione means less food sensitivities
Metabolic reconditioning – Weight loss, favor fat burn, reduce fat accumulation, increase energy metabolism, increase caloric burn, increase thermogenesis, increase insulin sensitivity, reduce hunger hormone
Gut/Brain Axis – Mood disorders: anxiety and depression
Shown to maintain healthy immune Modulation – Allergies, Asthma, Rheumatoid Arthritis, Immune Dysfunction
Immune stimulation of peripheral T-lymphocytes and B-lymphocytes – Fights colds, flu, sinus infections, ear infections, gut infections etc
Improved urogenital health and flora – Decrease in frequency of UTI (urinary tract infections)
Production and absorption of critical nutrients i.e. carotenoids, quinols, vitamins and enzymes – Reduction of oxadative stress- overall health improvements
Aids in digestion, improved nutrient absorption – fatigue, malaise, athletes, osteoporosis, CVD
Improves regularity
Helps control bacterial overgrowth – Reduction in side effects related to antibiotic therapy.  Treatment for small Intestinal bacterial overgrowth (SIBO) Click here to test for SIBO.
Detoxifies the intestinal tract – Dermatitis, eczema, psoriasis, fatigue, fibromyalgia etc
Reduces inflammation & pain – Use for Crohn's disease, IBS, ulcerative colitis, obesity etc
Assists in the reduction of cholesterol – CVD, peripheral artery disease, high blood pressure, arrhythmia's etc
Produces key nutrients – antioxidants (via bacillus subtillis bacillus clausii and bacillus indicus HU36), B-vitamins, Vitamin K2, Nattokinase, and CoQ10
Provides immune modulation for the prevention and treatment of infections, allergies and asthma
Restores healthy gut barrier function and maintain healthy gut barrier
Clinically shown to maintain healthy gut barrier function and maintain healthy gut barrier
Maintaining key health promoting gut bacteria mega sporebiotic boasts key health promoting commensal gut bacteria
Probiotic spore formula effectively reconditions the gut limning
Mega sporebiotic TM Typical dosage:
Week 1:  1 x capsule every other day
Week 2:  1 capsule every day
Week 3:  2 capsules per day simultaneously everyday
See the flyer Click this link to learn more. 
NOTE:  This product works even better when combined with MegaMucsa and Megprebiotic, click here to learn more about TOTAL GUT RESTORATION.
DID YOU KNOW?

Most Probiotics Don't Survive Digestion…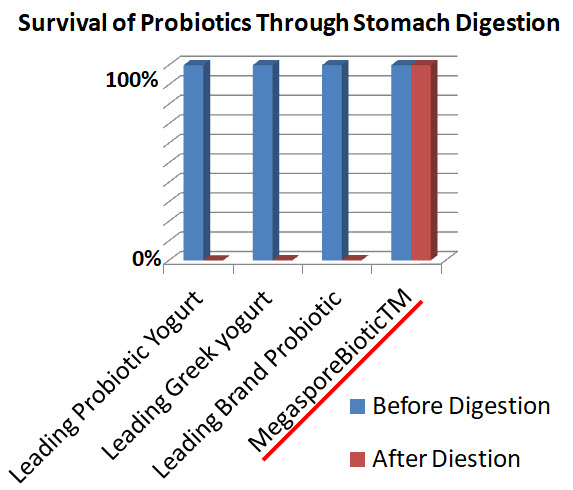 Why Megasporebiotic works
Megasporebiotic is a probiotic, it is a unique all spore formula that maintains efficacy during antibiotic therapy, while most probiotic strains that cannot survive digestion the advanced probiotic is proven to survive inside the large intestine. Winning over probiotic strains that cannot survive means that the process of reseeding with probiotic strains in the intestine effectively assisting to rebuild optimal microbiome (good gut bacteria).
The spore biotic blend aims to recondition, often dormant spores can change the condition of the gut instead of reseeding however in the gut this unique probiotic can restore function and overall immunity of the gastrointestinal tract once inside the
Probiotic and built in Antioxidants
With a blend of 5 bacillus spores that are naturally designed to survive digestion. The reason for their inherent survivability in the human gastrointestinal tract that allows them to remain intact in digestion comes from their bi-phasic life cycle. This means that the Bacillus spores can transition interchangeably from their dormant form to their active form, depending on the environment.
In its dormant spore form, the probiotic blend of 5 Bacillus will surround itself with an endospore, which is a tough, natural outer shell that protects it from light, heat, pressure, acid, lack of oxygen, and other environmental factors. This key feature is what allows probiotics to survive easily through digestion without the need for enteric-coated capsules or refrigeration.
Once it reaches the intestines, the advanced probiotic can increase microbial diversity by changing the pH, crowding out unwanted pathogens, and increasing the production of short-chain fatty acids. Due to its inherent survivability and lasting health benefits, MegaSporeBiotic™ has become a revolutionary tool in Total Gut
Restoration..